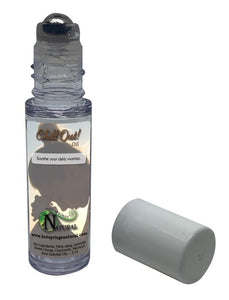 Our organic sunflower oil blended with essential oils in an easy to use roll-on bottle will calm your anxiety, worries, and fears. Sunflower oil is rich in Vitamin E. It is easily absorbed by the skin leaving extraordinarily little oily residue. Orange, Lavender, and Roman Chamomile essential oils induce relaxation and encourages positive emotions. Ylang Ylang and Patchouli essential oils relax the mind, balance your emotions, and control negative feelings. Tangerine oil elicits feelings of happiness and wellness. Rose oil soothes and harmonizes the mind, thereby increasing self-nurturing and self esteem.
How to use
Simply apply roller ball to pressure points, temples, wrists, or behind your ears to let go of negativity and allow the emotional healing of the heart!
Ingredients
Organic Sunflower Oil with a blend of Orange, Lavender, Roman Chamomile, Ylang Ylang, Tangerine, Rose, and Patchouli essential oils.