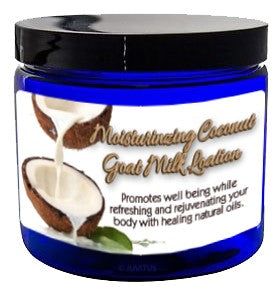 Goat Milk lotion with Coconut Oil that reduces inflammation, repairs damaged skin, moisturizes, controls acne, and reduces fine lines and wrinkles. Does not include chemical additives; even people with sensitive skin can use it without worrying about irritation or inflammation. This is one of our best selling lotions enjoyed by all members of the family!
Goat Milk and Coconut Oil Beneficial Properties
Creates a natural moisture barrier protecting the skin from bacteria and chemicals that trigger dry irritated skin.
Contains Vitamin A, C, and E which delays aging, produces collagen, reduces the appearance of fine lines, wrinkles, and sun spots.
Contains antimicrobial properties which help prevent the growth of acne-causing bacteria.
Relieves skin inflammation.
Offers effective antimicrobial and natural exfoliate effects.
Removes dead skin cells and encourages the growth of fresh new cells.
Functions as a sun block from the ultraviolet rays of the sun.
Coconut Oil moisturizes the skin with it's Vitamin E and amino acid properties thus maintaining the skin's natural flora.
Ingredients
Goat Milk, Coconut Oil, Shea Butter, Honey, Aloe Vera, Vitamin E.