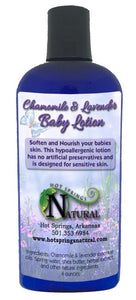 Chamomile and Lavender Essential Oils will soothe and moisturize your baby's skin, enhance sleeping, and relax a fussy baby. These oils are especially selected and safe for your baby.
Chamomile has natural soothing effects and is traditionally used to treat insomnia in babies and adults. Chamomile, along with lavender, can relieve symptoms of colic. Chamomile has also been shown to help anxiety and depression, and can uplift a fussy baby's spirits. Mother's you deserve to buy this product for you!
Ingredients
Chamomile and Lavender Essential Oils, Coconut Oil, Shea Butter, Aloe Vera Extract, Allantoin, and other natural ingredients.