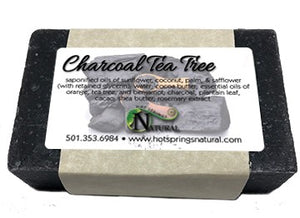 Charcoal and Tea Tree nourish and hydrate skin while drawing out impurities from your pores. An ideal soap for the outdoors due to it's antibacterial properties and earthy scent!
The Charcoal draws bacteria, toxins, chemicals, dirt, oil, and other micro-particles to the surface of the skin. The Tea Tree Oil has antimicrobial and antiseptic properties which make it ideal for treating and soothing skin conditions such as spots, blemishes, dryness, infections and other conditions.
Ingredients
Saponified Oils of Safflower, Sunflower, Palm, and Coconut (with retained Glycerin); Spring Water, Cocoa Butter, Charcoal, Plantain Leaf, Cacao, Shea Butter, Rosemary Extract, Essential Oils of Orange, Tea Tree, and Bergamot.