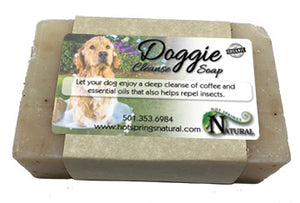 Ground apricot kernels and coffee will clean the dirtiest of dogs. It's lemony scent will make your dog feel fresh and clean while moisturizing their skin! The essential oils in this soap are insect repelling making it the perfect soap to pack for Fido on your hunting or camping trip!
Rub the bar onto your dog's wet coat. Lather, massage, and rinse thoroughly to prevent dried soapy hair. Shampoo bars are great for campers and hikers out for the day with their dog. Gentle oatmeal, ground and whole, provides skin exfoliation. Organic ground cloves give this soap a rich, spicy scent. Feel the difference in your dog's skin with this gentle complexion bar good for their entire body.
Ingredients
Saponified Oils of Sunflower, Coconut, Palm, and Safflower; Spring Water, Essential Oils of Lavandin, Rosemary, Patchouli, Lemongrass, Lavender, Thyme, Clove Bud, and Rosemary Extract.
Size
Net Wt. 4 oz (113 g)