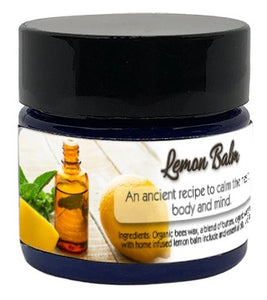 Used since ancient times to calm the heart and the body, lemon balm with its delicate lemony flavor uplifts the spirit, helps heal cold sores and hot spots. It has been used as a natural remedy since the middle ages to improve sleep, reduce anxiety, and help heal wounds. The balm is effective for mosquito, ant, chigger and no-see-um bites, too.
Apply to infection areas, pressure points, and/or temples.
Ingredients
Ingredients include targeted essential oils- Fennel, Pettigrain, Lavender, Sage, Cinnamon, and Lemongrass. It also has Sesame Oil, Organic Beeswax, a blend of butters and organic carrier oils with home infused lemon balm.
Size
Net Wt. 0.5 oz (14.2 g)