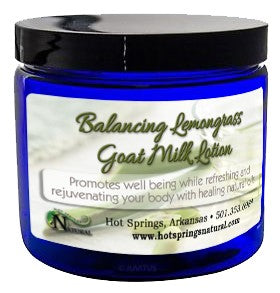 This Goat Milk lotion moisturizes and nourishes the skin with it's vitamin and rejuvenating properties. The addition of Lemongrass Essential Oil has astringent and antibacterial properties to help eliminate dirt and bacteria trapped in the skin.
Goat Milk and Lemongrass Beneficial Properties
Creates a natural moisture barrier protecting the skin from bacteria and chemicals that trigger dry irritated skin.
Contains Vitamin A, C, and E which delays aging, produces collagen, reduces the appearance of fine lines, wrinkles, and sun spots.
Contains antimicrobial properties which help prevent the growth of acne-causing bacteria.
Relieves skin inflammation.
Offers effective antimicrobial and natural exfoliate effects.
Removes dead skin cells and encourages the growth of fresh new cells.
Functions as a sun block from the ultraviolet rays of the sun.
Lemongrass Essential Oil acts as an astringent, with anti-bacterial and anti-fungal properties. Additionally, it provides insect and flea repellent properties.
Ingredients
Goat Milk, Coconut Oil, Shea Butter, Honey, Aloe Vera, Vitamin E, and Lemongrass Essential Oil.