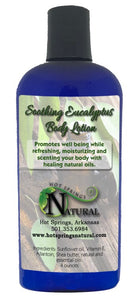 The Eucalyptus Oil in this lotion soothes your skin providing moisture, healing and a sense of well being. This non-greasy lotion is the perfect gift!
Eucalyptus Essential Oil is a natural antiseptic with antifungal, antiviral, anti-inflammatory, and antibacterial properties making it highly effective in treating skin eruptions, acne, and oily complexions. As a lotion it has a soothing healthy effect plus a great scent.
Ingredients
Shea Butter, Sunflower Oil, Allantoin, Vitamin E, and Eucalyptus Essential Oil.