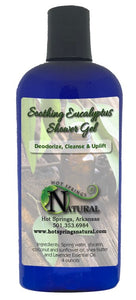 Cleanse and uplift you and your body with our eucalyptus based shower gel. You will feel and smell amazing!
Eucalyptus Essential Oil is a natural antiseptic with antifungal, antiviral, anti-inflammatory, and antibacterial properties making it highly effective in treating skin eruptions, acne, and oily complexions.
Ingredients
Spring Water, Glycerin, Coconut and Sunflower Oil, Shea Butter, Vitamin E, and Eucalyptus Essential Oil.