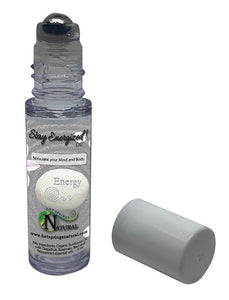 Our organic sunflower oil blended with essential oils in an easy to use roll-on bottle will enhance mental health and stimulate brain function to complete the tasks at hand. Sunflower oil is rich in Vitamin E. It is easily absorbed by the skin leaving extraordinarily little oily residue. Grapefruit oil will balance your mood swings, Rosemary will improve your memory and relieve aching muscles, Basil increase mental health, clarity, and will decrease exhaustion, Peppermint oil will stimulate nerves, hormones, brain function, and increase circulation.
How to use
Simply apply roller ball to pressure points, temples, wrists, or behind your ears to let go of negativity and allow the emotional healing of the heart!
Ingredients
Organic Sunflower Oil with a blend of Grapefruit, Rosemary, Basil, and Peppermint essential oils.