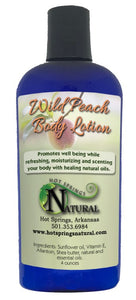 Rejuvenate, nourish, moisturize, tone and firm your skin with Peach Oil. This lotion will make you and your body feel amazing! The rich antioxidants vitamin C and E in the oil help neutralize free radicals and slow signs of aging.
This lotion with Peach Oil will moisturize, rejuvenate and nourish your skin with its Vitamin A, B and E properties to protect your skin from the metabolic properties of aging. It's emollient properties will soften, soothe and protect your skin.
Ingredients
Shea Butter, Sunflower Oil, Allantoin, Vitamin E, and Peach Essential Oil.