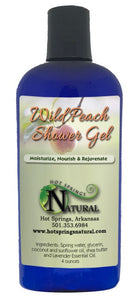 Moisturize, nourish, and regenerate your body with our peach infused shower gel. Our shower gel, rich in antioxidants, will give your body the boost it needs for the rest of your day!
Peach Essential Oil will moisturize, rejuvenate, and nourish your skin with its Vitamin A, B, and E properties to protect your skin from the metabolic properties of aging. The emollient properties in this shower gel will soften, soothe, and protect your skin.
Ingredients
Spring Water, Glycerin, Coconut and Sunflower Oil, Shea Butter, Vitamin C and E, and Peach Essential Oil.